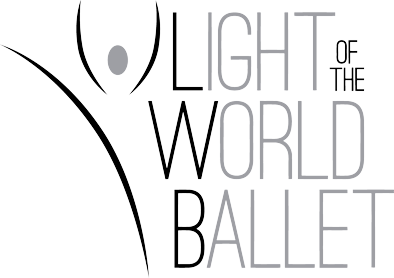 Helping Our Community
Why does helping Light of the World Ballet bring so much joy to me. There are several reasons, some of which make no sense to me. The ones not making sense are:
I so badly wanted to learn to walk on my toes. I was actually baited my mom to take tap dance and ballet class. You need to realize I was tough and tumble, chubby (I looked really cute in the leotards because of my chubbiness-LOL), and my best friends until junior high were the boys in the neighborhood since I was SUCH a tomboy. I could go on and on but I will not. After several months of tap dance lessons and getting impatient as I waited to learn to walk on my toes, I ask the instructor a question. "When are we going to learn to walk on our toes?" She replied, "That will not be for several years." At that point I realized my mom had baited me. I cannot fault her since I have three older brothers. I have always had a fascination seeing ballerinas walk on their toes and I have no idea where it came from.
Being a Christian and seeing Light of the World Ballet perform at my church's Mother and Daughter banquet, plus learning they did missionary work, I was HOOKED! Their major productions ALWAYS make me cry and fascinate me with the length of time the ballerinas can be on their toes! They put on an annual Christmas performance that I never miss.
Light of the World Ballet is a full-time professional ballet company which performs locally, state-wide, and tours nationally and internationally (Burma, China, Hungary, India, Israel, Kazakhstan, Slovakia, Sri Lanka, Peru, Philippines and more). The desire of the company is to present the Gospel of Jesus Christ in an unconventional way as the art of dance moves through barriers to minister the love and power of the Holy Spirit.
The Company presents lively, colorful performances with a clear spiritual impact and message that opens hearts to the Lord. Light of the World Ballet presents performances, workshops, and cultural exchanges. The company has performed in churches, schools, theaters, hospitals, shelters for abused women, universities, orphanages, conferences, conventions, prisons, and many other venues. People have been touched by God, healed and made decisions for Christ through the ministry of the Light of the World Company.
I have gotten to know a handful of the ballerinas and parents. It is obvious how strong their faith is and their love of being a ballerina. At the Christmas performance all the age groups participate, bringing so make joy to the performance. Their youngest ballerinas are 3-4 year olds. As you can imagine they are so adorable!
I love how Light of the World Ballet interweaves bible teaching into their classes to help teach the Word of God. This is so important at this time since so many young adults are not walking in the way of the Lord. Ashley Sunada the founder of Light of the World Ballet started having advance dancers come to her, after dancing 7 years with the professional ballet company Ballet Magnificat!, located in Jackson, MS. At this point in time, she to started to hear God start a Christian Ballet company, the rest is a wonderful history!
It is wonderful to see the Light of the World Ballet ballerinas grow and mature over the years as they walk in the Lord. The Light of the World Ballet has a wonderful training program of already Christ committed dancers. They are technically advance dancers with the desire to dance professionally. The ballerinas minister effectively nationally and internationally. Each applicant applies by auditioning. The trainee program is five days a week at the Light of the World Ballet's 4,800 square foot facility. They are trained in evangelism and discipleship in addition to dance technique.
Their instruction includes ministry training , Bible study, technigue, pointe, conditioning, teaching skills, rehearsal and performance. This training program is typically 2 years long with a 10 month commitment (Sept to June) each year. After completion of this 2 year training, they can be considered for an apprenticeship position with the Light of the World Ballet. As a trainee, they may have the opportunity to travel on overseas outreach trips.
The Light of the World Ballet has a wonderful repertoire of seven performances and you can view them on their website:  www.lightoftheworldballet.com/.
Follow the Star is historical account of the Underground Railroad and Harriet Tubman.
Ana's Battle is about a Great Warrior who went on a long journey leaving his daughter Ana behind with three gifts to conquer the destructive Whispers. Otherwise, she would become what the Whispers said rather than knowing the truth of who she really was.
Living Hope is about a young Chinese woman coming to know Jesus Christ during China's Cultural Revolution.
The Crown is inspired by the book of Proverbs illustrating the choice between wisdom and foolishness.
Christmas Celebration is a great grouping of traditional and contemporary Christmas songs exemplifying the joy Jesus has given to the world.
You Are Special is a children's program based on Max Lucado's book, You Are Special. This ballet has been interpreted into 6 languages.
Creation's Joy is about the value of life. It is about a girl dealing with imperfection and hidden pain.
The Light of the World Ballet have traveled internationally to Israel and India 3 times, Peru, China, and Burma twice, and Kazakhstan and Philippines once. On their website there is a wonderful International Promo video. I encourage you to watch this video and the repertoire videos, they give me goose bumps or as I like to call them truth bumps!
Your can register you daughter or son online at www.lightoftheworldballet.com/ and tell them you heard about The Light of the World Ballet from Dr. Nanci Knox.
The Light of the World Ballet accepts donations which are tax deductible. Donations are accepted online or they can be mailed to:
Light of the World Ballet

PO Box 44
Syracuse, NY 13209